welcome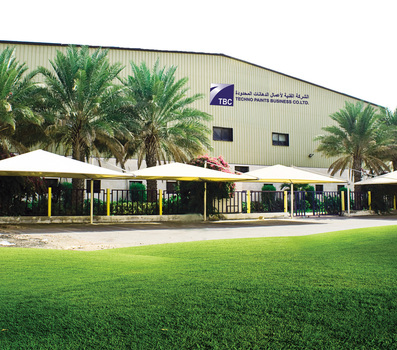 Techno Paints Business Co. was established in year 2000 to meet the market demands. It is situated in Al Khomrah – Stores City – Chamber of Commerce – Phase # 1 , Jeddah K.S.A.
We are producing our paint with high technology and quality. We have advanced and well equipped quality control and R & D Laboratories.
Our production capacity is 15 millions Liters per year.
Techno Paints Business Co. is manufacturing an extensive range of high quality decorative Paints, ideal for variety of applications ranging from private houses and villas to the largest commercial buildings. Our Enamels, Emulsions and texture finishes provide different types of products according to the customer's requirements. The range also includes primer; sealers and fillers to fulfill painter's need to maximum performance.
Supplementing the core range of decorative paints for creation of special effects like rolling and marble effect; our paints highly suitable to get these effects. Only providing high quality paints is not sufficient to ensure customer satisfaction.
Therefore, the company has established a network including technical service department which can advice on many paint related issues including the best paint system to be used and the most appropriate method of application.
ORGANIZATION
The factory is located at Al Khomrah – Stores City – Chamber of Commerce – Phase # 1 , Jeddah , K.S.A. it spread over an area of 19000 – sq. meter Area.
The factory consists of area of Approximately 9000 – sq. meter with modern paint machineries. It consists of different departments like , purchase , sales and marketing R & D , Quality Control and production.
It has beautiful building with office block , Laboratories , separate Solvent and Water based production halls, raw material store and finished goods store. Also we have large Capacity Storage tanks for Solvents and Water.
It has high quality safety fire fighting system and flameproof safety building instruments.
It has modern production machines with maximum capacity and laboratory is equipped with latest instruments to fulfill the quality testing and research needs. The TechnicalStaff is multi national, highly qualified, trained and experienced in K.S.A. & outside K.S.A.
FUTURE PLANS
To compete in the market and fulfill customer needs, it is necessary to have good quality systems. So the company is following an international Quality Management System like ISO 9000.
The Company recently achieved it's Quality Objectives by receiving for the first time ISO 9001 Certification and also the factory got SASO certificate from Saudi Arabian Standard Organization.
Our next ambitions also include affiliation / collaboration with an international paint company.
We have also planned to start industrial and Refinish range of products next year to complete the entire range of products required by the market.
COMMITMENT :
The management and employees in Techno Paints Business Co. are committed to manufacture quality products and provide in true service.
MISSION
To grow in our core business in paints and coatings industry and to globalize our brand.
To increase customer awareness and to integrate customer demands with priority.
To adapt the international total quality management philosophy.